Homily from Christmas Eve Mass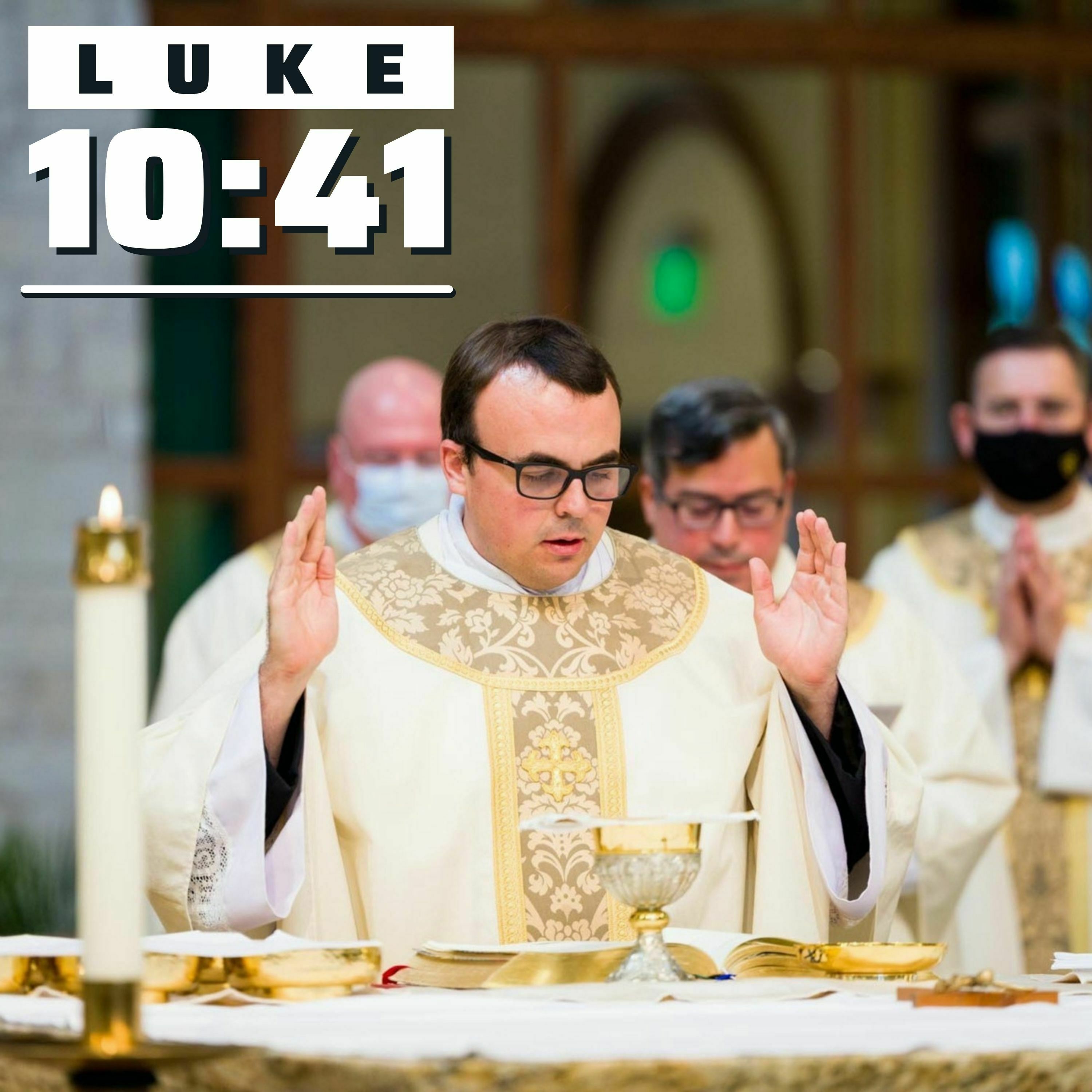 Long for Glory | Homily for Second Sunday of Lent | Fr. Will Rooney | Mar 5, 2023
–
Luke 10:41
When I was child, when mom and dad got too tired of us, they would often ship us off to my grandparent's farm outside of Bryan, TX. One of my favorite things about these visits was that on Saturday morning my brothers and I would wake up really early, and we would go jump on my grandparents and ask them to tell us "old-time" stories about growing up in western Kansas. Because of those times, though I never knew my grandma's parents or my grandpa's dad, I can tell you a lot about where they were from and what they did. My brothers we fascinated to learn about what life was like then. But I think what made it particularly riveting was that it was the story (at least in-part) of how we came to be who we are in the world.
Biologically and culturally each of us is the result of an inestimably complex combination of our ancestors. There is something natural in asking the question. Where am I from? How did I get here? And perhaps most poignantly, why?
The genealogy and the that we just heard tells us something about the one whose birth we celebrate in splendor tonight.
First, the genealogy is long. It even takes a long time for us to read it all. The one whom we celebrate today is long awaited. He is the child of the promise made in a sense to all humanity, but specifically concretized in the promises to Abraham and David who figure so prominently in the list of names.
To Abraham was made the promise that "in your descendants all the nations of the earth will find blessing."[1] To David was promised, "when your days have been completed and you rest with your ancestors, I will raise up your offspring after you, sprung from your loins, and I will establish his kingdom.He it is who shall build a house for my name, and I will establish his royal throne forever"[2]
The genealogy also includes a wide mixture of great saints and great sinners and people in between. The one whom we celebrate today is not from a perfect family. The genealogy includes Jews and gentiles. It includes men and women.
In short it includes all of humanity. All of humanity. In a mystical sense, we are part of the genealogy of Christ. He came at a point in time, but he came to be the new Adam. He came to make us new. St. Luke in his Gospel traces the genealogy of Christ back to Adam and in a sense makes it more explicit that Adam the first man was a figure of the one who was to come namely Jesus Christ.
The genealogy also includes one strange and startling departure at the very end. Joseph is not called the Father of Jesus, but "the husband of Mary, [and] of her was born Jesus who is called the Christ". And this reveals something profound about how he was born and who he really is.
Joseph adopts Jesus by naming him. But he is not Joseph's child. He is conceived of the Holy Spirit. He is God from God light from light true God from true God.
The radical claim of Christianity is that the Word who spoke creation into being became a Baby who could not speak a word. God becomes incarnate. He takes on flesh and blood. He takes on a human mind and a human will. He assumes humanity to himself. He became like us in all things but sin.
He is born of a woman and through his humanity we get to meet divinity. When we look at the little baby in the manger, we see the face of God. The infant Jesus laying in the manger reveals God. When he smiles, God smiles. When he cries, God cries. When he grasps the finger of Mary or Joseph or a shepherd, it is God grasping the human hand.
This is fundamental to Christianity and if we recognize it will change our lives. On this night of the nativity, "the defenseless love of God, his humility, and his kindness came into view: he exposes himself to us in the heart of this world"[3] God comes to us in a way that we can receive Him – as a tiny infant.
If the genealogy answers the questions how he came to be born and where Jesus is from, perhaps the more important is why? Why did he come? If then, he is God and he is man, why did he come?
We need to remember that he did not have to come. And even if he had come, he didn't have to come as an infant. And even if he had come as an infant, he did not have to be born in a cave. And even if had been born in a cave, he did not have to be laid in a manger. Remember God does not need you or me. He does not need us. There was no need on his part which moved him to come.
Where there is no need, only love can exist. Love is willing the good of another as other. It means choosing what is best for the other regardless of the cost to ourselves. What is our good? Our good is found in loving God above all things. In loving God consists our salvation.
But we cannot love God as we ought on our own and we fail to love others who are made in his image. We know this. Something is horribly wrong in the world. We see evil actions. We experience evil. And most frighteningly, we have sometimes participated in evil. This evil makes us miserable and try as we might we cannot escape it.
Moved by our plight God takes action, he comes to save us. This is why Jesus is named Jesus – God saves. He comes to free us from sin to make us just by offering himself in sacrifice. He heals from our sins in a way that befits the dignity that he gave us in the beginning. He moves us to love him by coming as man, as an unspeaking infant, in a humble cave, with a manger for his bed. In so doing he teaches us to love Him. When we love the Child Jesus we love God. Through things visible we are caught up into things invisible.
Take courage, you who were lost: Jesus comes to seek and save that which was lost. Ye sick, return to health: Christ comes to heal the contrite of heart with the unction of His mercy. Rejoice, all you who desire great things: the Son of God comes down to you that He may make you the co-heirs of His kingdom. I beseech you, then, O Lord, heal me, and I shall be healed; save me, and I shall be saved; glorify me, and I shall be glorious. Then indeed shall my soul bless the Lord, and all that is within me praise His Holy Name, when He shall have been merciful to my iniquities, have healed my infirmities, and have filled my desire with good things.[4]
---
[1] Gen 22:18
[2] 2 Samuel 7:12-13
[3] Benedict XVI, The Blessing of Christmas, trans. Brian McNeil (San Francisco: Ignatius Press, 2007), 71.
[4] Saint Bernard. "On the Joy His Birth Should Inspire." In Sermons of St. Bernard on Advent & Christmas: Including the Famous Treatise on the Incarnation Called "Missus Est," 75–81. London; Manchester; Glasgow; New York; Cincinnati; Chicago: R. & T. Washbourne; Benziger Bros., 1909.