There is a saying from psychology which has come into common speech, "hurt people hurt people." The point is that people who are wounded or stressed psychologically speaking are more prone to hurt others psychologically. In psychological terms, this is called defensiveness. We see this in play in our everyday interactions, and it can take many different forms.
For example, the kid who is bullied at school becomes more prone to mistreat another child. Or the dad who, after having a challenging day at work, comes home to a mess and yells at his family in a manner totally out of proportion to the disorder. Or the priest who is in the middle of doing many things and becomes less than kind to one of his parishioners. He displaces his frustration from not being able to get everything done the way he would like
In part, psychology tells us this sad cycle of hurting people hurting others because the first person feels powerless and desires to feel some sense of control and power. However, they don't feel that they can do anything to solve the actual problem. The bully is bigger than them, the workplace circumstances seem out of their control, or the demands of the parish are too great.
So, to protect ourselves, we sometimes resort to more-or-less unconsciously becoming that which we dislike in relation to another person. This gives the person a sense of control and power, albeit circumscribed and limited. Led by our desire to feel secure and in control, too often, like the unmerciful servant we demand that others, "Pay [us] back what they owe." (Matthew 18:28)
But it does not have to be so. We are not slaves to our passions. We are not slaves to our wounds. In fact, Christ comes to make us free. The desire for control is not about desiring too much but rather it desires too little. We are made to be free – we are made to be able to do great things. Defensiveness expressing the desire for power and control is a twisting of the yearning for freedom. We want to be free to able to choose what is good, to know what is true, and to behold what is beautiful.
The type of freedom we are made for is the freedom which allowed St. Paul to say:  "If we live, we live to the Lord, and if we die, we die to the Lord; so then, whether we live or whether we die, we are the Lord's."[1] What holy indifference! Here is a man who is free from all defensiveness. He makes perfectly clear how he is capable of such freedom – he "is the Lord's." It is his relationship with the Lord, which allows St. Paul to be so free.  Living out of this relationship all grants him the sense of security he needs to know who he is and what he is about.
Regardless of the circumstances, Paul can relate everything to the fact that he is the Lord's. Lest we think that this is a stoic ideal, let us be clear that Paul was a man who felt deeply. If you need proof of this, read Galatians, where he is clearly angry, or 2 Corinthians 12, where he speaks of the anguish of the "thorn in his flesh." But he ordered his passions, seeing the circumstances of his life in light of his relationship with the Lord. Paul's secret was to know that no circumstance, no matter how grave, can take one away from the love of the Lord.
Nothing but freely choosing to turn away from the Lord, through sin can take us away from him. Even then, he loves us and calls us back to himself. This kind of love allows us to breathe freely. It will enable us to act without trying to grasp after things which are meant to be seen as gifts. To have joy.
We profess and celebrate the proof of this love each time we celebrate the Mass, remembering that he came for us men and our salvation.
But I fear that too often you and I don't allow the proof that Christ is merciful to sink in and change the way that we live.
That is the same mistake that the unforgiving servant in the parable made today.  He asked and pleaded for forgiveness, and his Master, moved to the very depths of his being, forgave him the debt.  The servant did the right thing here. He asked for forgiveness and mercy when he knew he couldn't pay.
But afterward, the servant didn't act like he had had his debt forgiven. He didn't have joy – the fruit of our cooperation with God's grace working in us.
Why? Probably because he didn't believe, or had forgotten, or failed to trust the mercy of God. Why? Because he forgot who the Lord was and what he had done.
Have you ever heard anyone say that God doesn't matter? That it doesn't matter what religion you are as long as you are a "good" person? That is not true. Period. As Carolyn Houselander writes, "Nothing matters more than having a true knowledge of Christ. We become what our conception of Christ is: God made us in His own likeness, but we have an extraordinary power of changing ourselves into the likeness of the idols we make."[2]
The servant's idol was a mean demanding God.
The servant, fearing he would yet have to pay back his debt, was unwilling to extend compassion to his fellow servants. Because of this, he became the image of the Master he thought he served – a cruel, demanding taskmaster who is unforgiving and harsh.
If we want to be free, truly free, to be the people we are meant to be, we have to start with our conception of God. Healing our beliefs about who God is and what he has done for us is the first step in loving our neighbor well. It is the fundamental aspect of being free!
If it is true that hurting people hurt people, it is even more true spiritually speaking that healed people heal people. When we discover the truth of both our own wretchedness as sinners and, much more importantly, God's love for us, which is healing, we can be free to love. Recognizing that the mercies of the Lord are not spent, but renewed each morning and that all is a gift, we will not demand that other "pay back what they owe" but in imitation of Him, offer all we are for their good.  
Questions for us to ponder:
When am I most defensive? When defensiveness occurs what need am I seeking to fulfill? How can I relate it to God?
  How do I view God? In what areas of my life to forget that he is our Father and treat him more like a tyrant? What lies do I believe about myself and about him? What is the truth opposed to these lies? Have I allowed any false images to influence my behavior?
Do I go to God, Our Father, each day in prayer? How do I approach him in prayer? Do I ask him for holy indifference flowing from my trust in him?
Today's readings can be found here: http://www.usccb.org/bible/readings/091320.cfm
You can subscribe to future audio versions of homilies here: https://frwill.fireside.fm/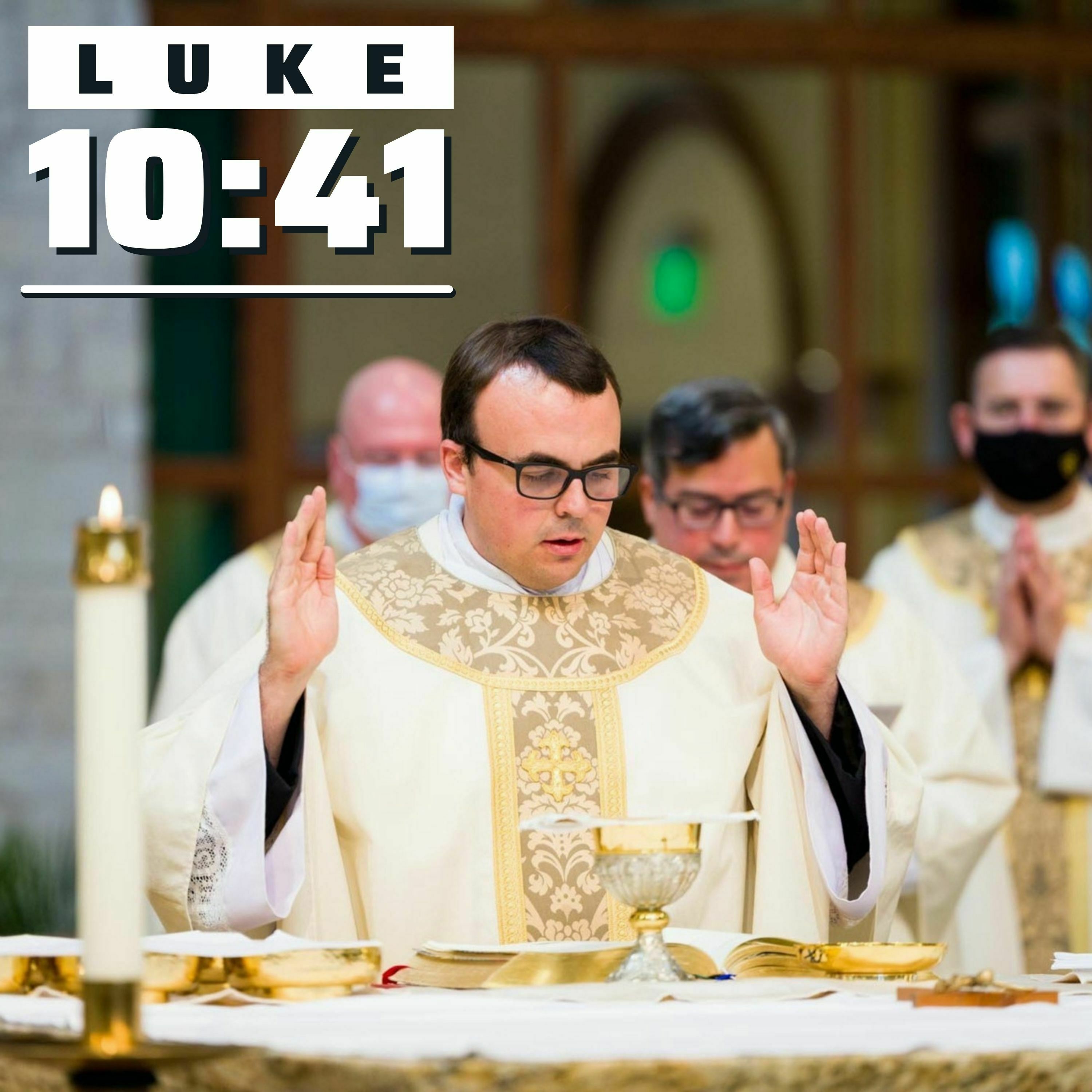 Long for Glory | Homily for Second Sunday of Lent | Fr. Will Rooney | Mar 5, 2023
–
Luke 10:41
(24th Sunday of Ordinary Time, Mass in the Ordinary Form of the Latin Rite)
---
[1] The Holy Bible: New Revised Standard Version, Catholic Edition (Washington, DC: National Council of Churches of Christ, 1993), Ro 14:8.
[2] Caryll Houselander, The Reed of God