"God is faithful, and he will not let you be tested beyond your strength"

(1 Cor 10:13)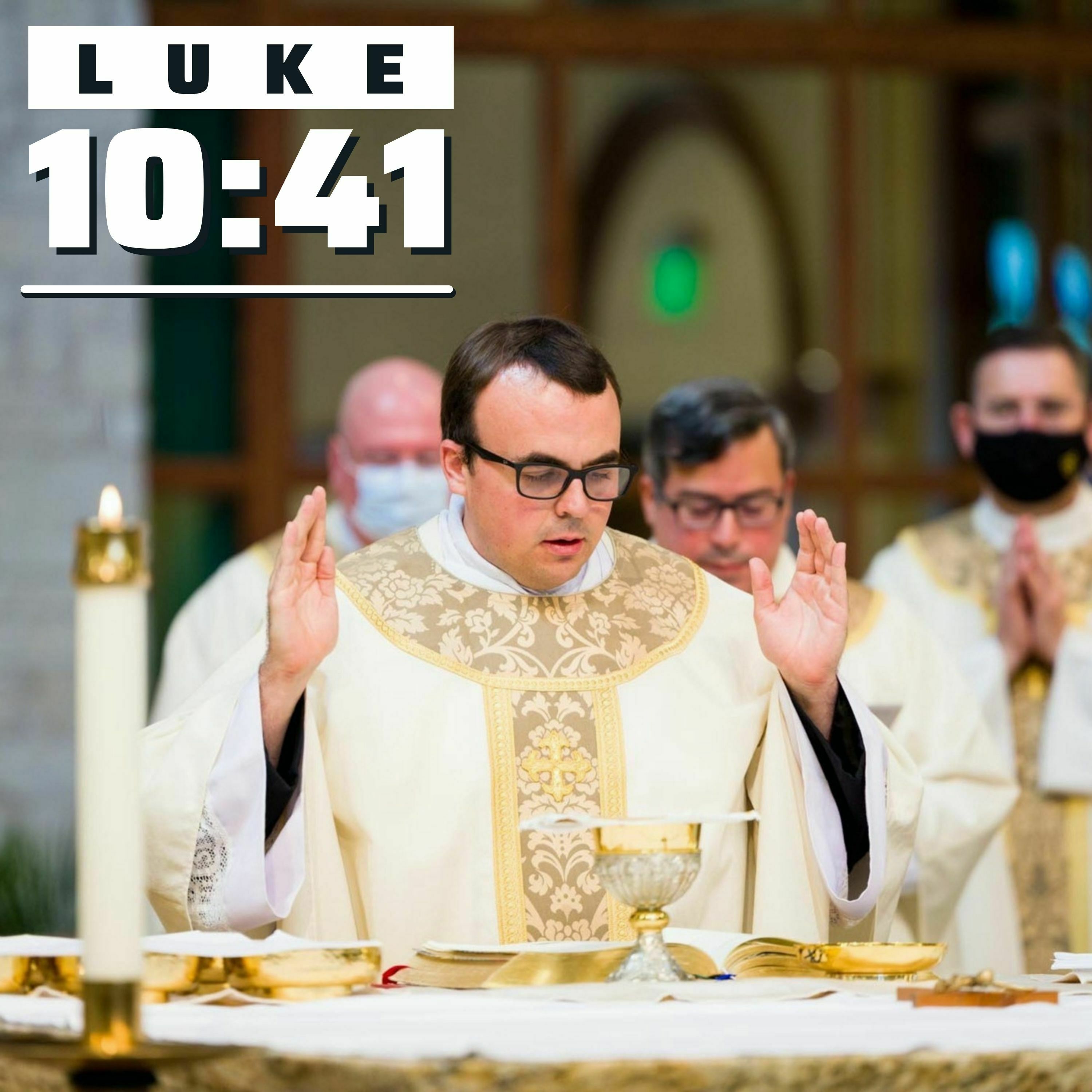 Ecce Homo: What is a Man?
–
Luke 10:41
What is a man? What is Masculinity? What is its purpose? Talk for Baylor Catholic students at St. Peter Catholic Student Center in Waco, TX
How do you approach temptation? Consider the last time you were aware of a temptation to sin. Or the general pattern of sin in your life. What did you do? How did you fight against temptation?
How we try and fight against temptation reflects our beliefs about God. Is God a policeman trying to catch us? Is God far away and acting like an accountant who tallies our credits and debts?
Or is God Our Father? A Father who so loves the world that he sends his Son to die that we might have life. The Son, who is God, became the Firstborn of all creation – our Older Brother, in whom we have our Sonship – out of love for you and me. To call fallen humanity back to himself, he became man and dwelt among us.  
So, what should we do when we are faced with temptation? I want to invite you to pray using the acronym A-R-R-R. Sometimes this is called praying like a pirate (ARRR – get it, just use it to remember it). This sounds a little cheesy, but it may help you to remember the acronym. Which stands for Acknowledge, Relate, Receive, Respond.
Acknowledge the temptation
To be able to acknowledge the temptation, we need to be aware that we might be tempted. I encourage you to grow in self-knowledge. Parents please help your kids to learn to do this as well. What are the situations and occasions that often lead you to sin?
It takes humility to admit we are being tempted or might be tempted in a particular situation. Sometimes pride enters into our hearts in the form of "I'm beyond that temptation…I overcame that…I couldn't be tempted in that way." In these moments especially, we have to "take heed lest we fall," and acknowledge first to ourselves that we are tempted, "for they do not crackle in the furnace of who do not have the wind of pride"[1] It is helpful to be specific about this, I am being tempted to … this or that, rather than being general.
Relate it to God
Once we have acknowledged that we are tempted, we have a decision to make. Do we allow ourselves to entertain it, or do we take it to God? Do we ask for grace or choose to indulge? Relating talking to God does not need to be fancy, far from it. Just speak to him like you are speaking to a friend. He wants to know your hurts and desires because he loves you.
Recieve His Love and Grace
Next comes the most challenging part, at least for most of us. Receive his love. Once I hurt my leg, and an athletic trainer friend was working with me to help it heal. As he was working on my leg, he had to repeatedly tell me to relax. And the harder I tried to relax the muscles, the more I failed to ease the muscle tension. I think the same thing is often true in the spiritual life… we don't know how to simply relax and receive the love of God. Receiving is more fundamental to Christianity than activity.
Simply bask in the fact that God loves you. Your sin, your past temptations, your present struggles, none of them can change the fact that God loves you. He's loved you from the beginning, and he will always love you. You are his son or daughter.
Respond to this gift of grace.
From this love, respond to the grace to live as a son or daughter. Thomas Aquinas tells us: "truly faithful is God, who gives us power so that we may not be vanquished, grace so we may merit, constancy so that we may conquer."[2]
You are a temple of the Holy Spirit… far more valuable than the Temple of the Lord in Jerusalem. Christ compassionately weeps when he sees us in sin because he loves us. Christ is always present and desires to enter the temple of our hearts and cleanse it of the robbers who wish to cause us harm.  Let him love you. Receive that love and live in freedom from sin.
Questions for use to ponder
Am I honest with myself about my temptations and the vices in my life? How am doing at truthfully acknowledging my thoughts, feelings, and desires (even if they are not all holy)?
Do I honestly relate my struggles and temptations to the Lord? Are there areas of temptation that I struggle to be honest about?
How do I feel loved by God? What are signs of his love for me?
What prevents me from responding to his love? 
---
[1] St. Thomas Aquinas, Commentary on 1st Corinthians, 535
[2] St. Thomas Aquinas, Commentary on 1st Corinthians, 535