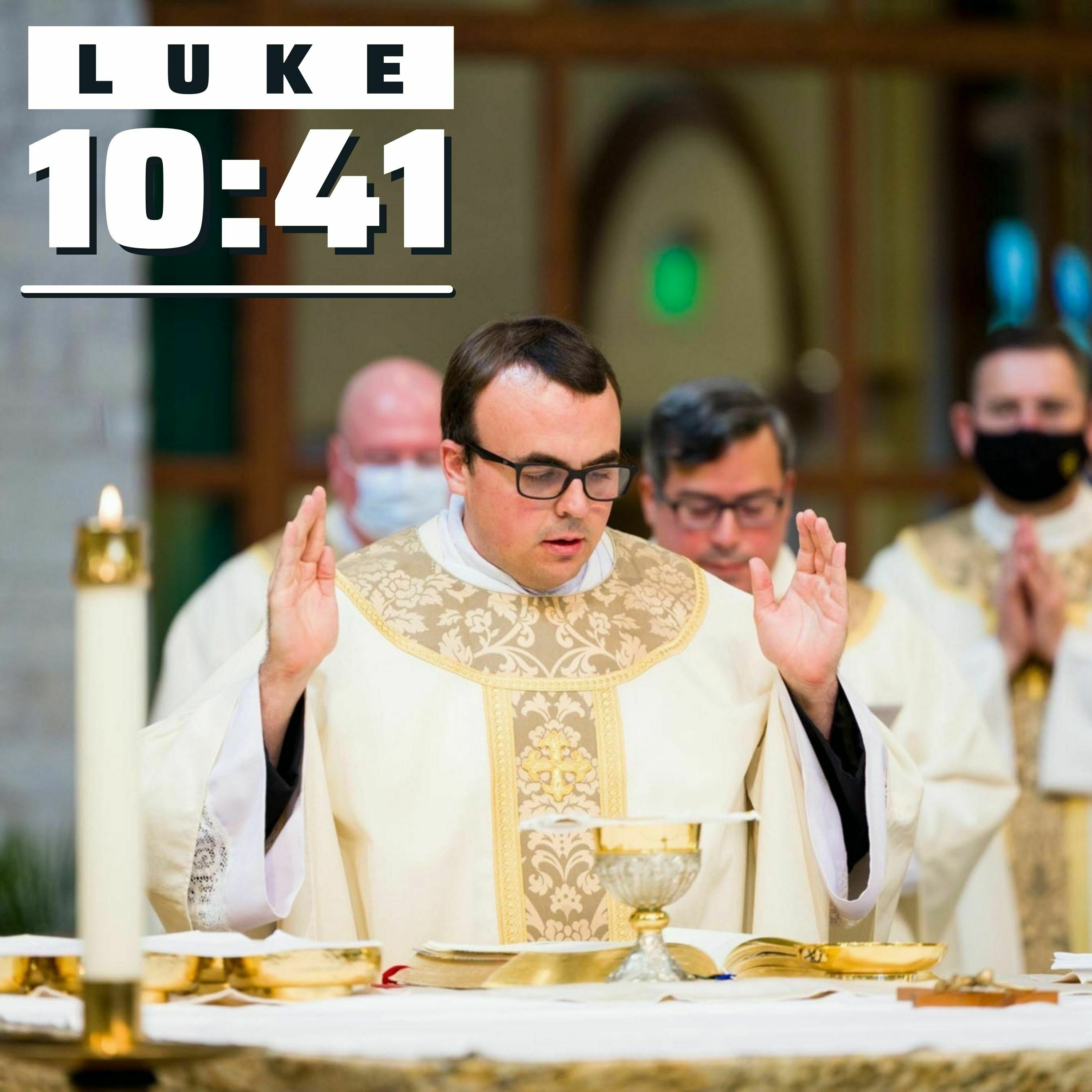 "God is faithful, and he will not let you be tested beyond your strength" (1 Cor 10:13) Simply bask in the fact that God loves you. Your sin, your past temptations, your present struggles, none of them can change the fact that God loves you. He's loved you from the beginning, and he will always love you. You are his son or daughter. Christ compassionately weeps when he sees us in sin because he loves us. He is always present and desires to enter the temple of our hearts and cleanse it of the robbers who wish to cause us harm. Questions for us to ponder: Am I honest with myself about my temptations and the vices in my life? How am doing at truthfully acknowledging my thoughts, feelings, and desires (even if they are not all holy)? Do I honestly relate my struggles and temptations to the Lord? Are there areas of temptation that I struggle to be honest about? How do I feel loved by God? What are signs of his love for me? What prevents me from responding to his love? Today's readings can be found here:
https://ususantiquior.files.wordpress.com/2020/07/propers-for-ninth-sunday-after-pentecost.pdf
You can subscribe to future audio versions of homilies here:
https://frwill.fireside.fm/
(9th Sunday after Pentecost, Mass in the Extraordinary Form of the Latin Rite)
In the letter to the Romans and throughout his writings, Paul contrasts the attitude of a servant and a Son. The Son and the servant may do the same thing, but their reasons for doing so differ significantly. A servant acts from fear; he is concerned with protecting himself from harm. But a Son acts from love.
To be clear, the attitude of the servant is reasonable. In St. Paul's time, as in today's time, slavery was cruel, harsh, and inhumane. Acting as fear would indicate, to be clear, is not always a bad thing. If a lion is chasing you, you should run. It is not wrong for us to act motivated by fear on a natural human level as long as it is reasonable.
Yet, in recent months we have seen how powerful a force fear can be in our lives. Fear can be paralyzing. Sometimes it prevents us from doing what we would know is right in a difficult situation. On the other hand, sometimes it disposes us to do something wrong even though we know it is wrong.
St. Paul uses this contrast to invite us to consider something fundamental in our spiritual life. He says that we do not receive a spirit of slavery to fall back into fear but a spirit of adoption by which we cry out Abba Father. You are a son or daughter of God in the image of the Son, our Lord Jesus Christ.
Do we realize the profound truth that St. Paul tells us today and its implications? I would argue that our Christian life is at the heart of the unfolding of this mystery. That God wishes to conform us to the image of his Son, to make us sons and daughters in the Son.
We are conformed to his image at Baptism. This is not merely a "covering over" of our old nature, but rather the renewal of ourselves. In Baptism, the Spirit remakes you and me into the image of the Son. This is one reason why the Our Father plays such a prominent role in Baptism.
Consider also what we do each day here at Mass. We call down the Spirit upon bread and wine, and He makes present Christ under the humble species of bread and wine that we might again unite ourselves to his Sacrifice. But this Sacrifice because it is the Sacrifice of the Son out of love for the Father always has a filial character. Consider that the first words of the Canon are "Te igitur clementissime Pater" – to you, therefore, most merciful Father! Moreover, immediately after the Canon, we unite ourselves in praying the Pater Noster – the Our Father – the model of every prayer for a Christian. The Spirit has not only made Christ present on the altar but united us as one body in union with Christ our head.
The Sacrifice of the Mass is not like the pagan sacrifices of old, which were made in servile fear. It is not the Sacrifice of a slave, or a servant to the Master but rather a Sacrifice of Love offered willingly. A sacrifice of Christ's filial love, into which we are caught up. We participate in Christ by the Spirit. So also, our entire life is meant to be caught up into this one Sacrifice, so that it can be continually transformed. This is what Paul means when he implores us not to live according to the flesh but rather by the Spirit.
While we might begin our spiritual life motivated mostly by fear of punishment, part of our life is to grow more and more in what St. John calls perfect love – which casts out all doubt! Our only concern spiritually speaking, should be about becoming separated from the one we love. "We've got to be filled, to be imbued with the idea that our Father, and very much our Father, is God who is both near us and in heaven."[1]
As the bread and wine are made Christ, who always cries out to the Father, so also our lives must be made into Christ through the work of the Spirit so that in union with him, we too cry out Father through that same Spirit. I invite us in prayer to examine ourselves: Do we act with the freedom of sons who are brothers and friends of the Son or as if we were servants. God came to make us coheirs, not slaves. He said, I no longer call you servants…Will we receive his love?
---
[1] Saint Paul's Letters to the Romans & Galatians, The Navarre Bible (Dublin; New York: Four Courts Press; Scepter Publishers, 2005), 101.