Everyone wants to be generous, but many times we fail to act generously.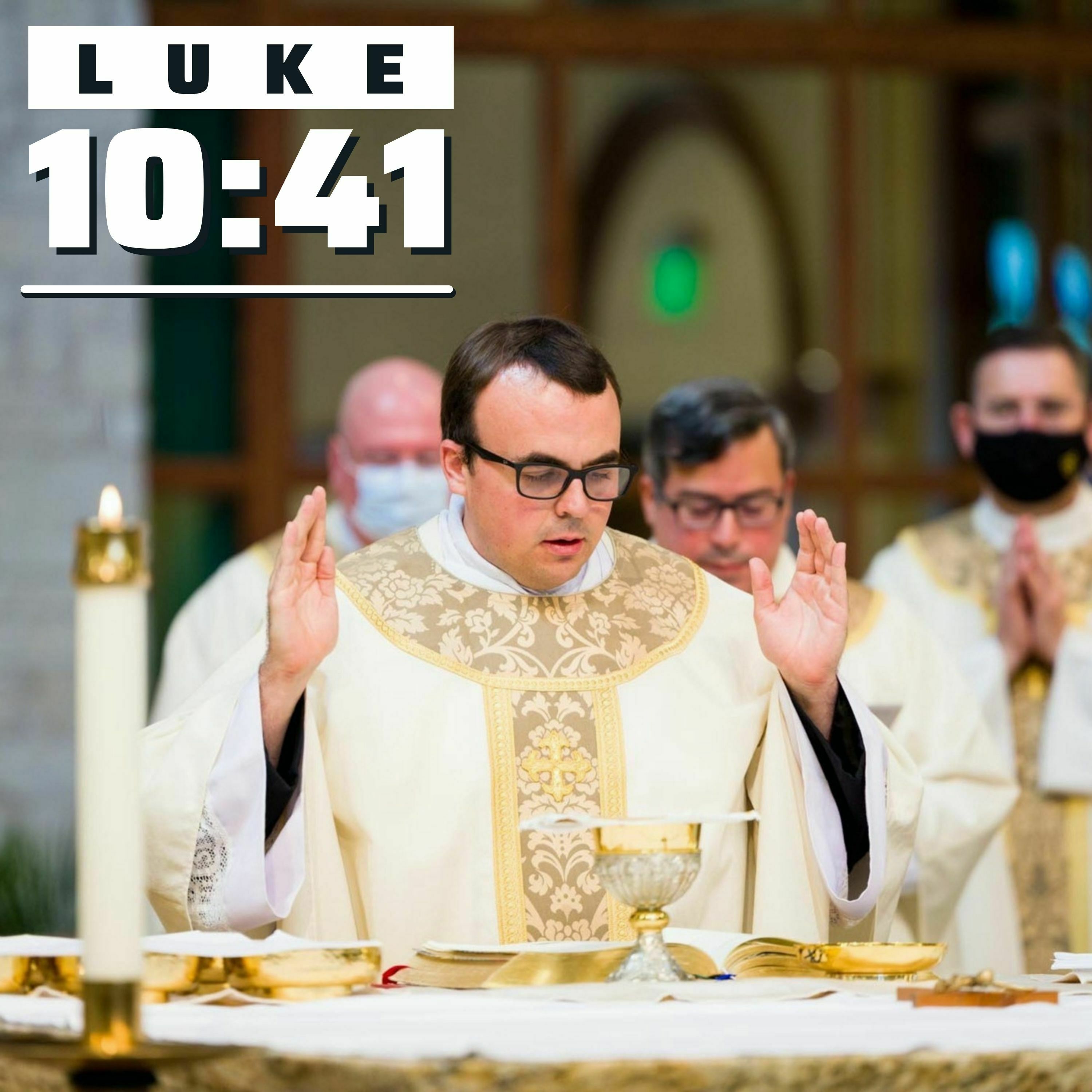 Long for Glory | Homily for Second Sunday of Lent | Fr. Will Rooney | Mar 5, 2023
–
Luke 10:41
Often, we are not generous because we fear the effects it will have on us. Put another way, a lack of generosity often derives from a fear of poverty. I want to be clear; I'm not only speaking about the fear of material poverty: We can refuse to be generous for fear of poverty in many different ways. For example, we are afraid of what people will think of us or how they might interpret our actions. We are scared of losing honor. We can refuse to be generous because we are afraid of making a mistake and being misinterpreted. We can refuse to be generous in giving someone the benefit of the doubt because we fear the poverty of being taken advantage of.
We fear that we will not have enough if we give. We fear our generosity may be our ruin. We fear not having enough for ourselves because we believe it will inevitably lead to unhappiness for ourselves or those we love.
Now, this sort of calculus has its place among the material goods of the world. Let's be clear we do "need" things to maintain our lives. If I give or spend this money here and then I will not have it in the future to do something else with. Likewise, we only have a finite amount of time to give. We have obligations in justice to do certain things that take up much of our time each day. We have to decide to do things or not, give our time or not to something.
How do we decide which goods we will choose among the many different ones that present themselves to us?
We need prudence to be able to make decisions about the best way to be generous. Prudence is the virtue directed towards choosing the means towards happiness. Its principal acts are to seek counsel, to judge, and then to command us to act. When many means present themselves, the prudent person judges according to the standard of reason what he should or should not do in this situation right now according to what he believes will bring him happiness. This is the natural way we act.
But here's the thing: for us as Christians, prudence must consider an eternal perspective. We are not made for merely natural flourishing, but eternity with heaven. Our goal is not merely a good life fear from poverty – which is not to be despised – but communion with God.
Thus, another sort of calculus has to come into play for us as Christians when we think about generosity. . It's what St. John Paul the Great called the "law of the gift." The truth that the more I give myself, the more I find my real purpose and meaning in life.
This is what the parable today teaches. The wise the prudent virgins stored up the treasure worth something in keeping vigil for the bridegroom.
Christian prudence considers a different measure: growth in charity becomes its end rather than merely living well according to human estimation.
In the end, all the material things will fall away. The material has a place, but it is not everything. In the end, the material things, even honor, prestige, and all the things we fear losing in this world will evaporate. The things will not matter in themselves but only how we used them or failed to use them in service to their more excellent end – charity towards God and our neighbor. In the twilight of our life, says St. John of the Cross, we will be judged by our love.
The parable today invites us to take a long hard look at our lives in light of the long game. The oil in the lamps of the wise ones is charity. Charity, which gives human prudence a new measure and mean, must be received individually from the Lord. We cooperate with the Lord's gift of charity by exercising it.
We want to have lamps full of oil at the end of our lives – but what is the investment that will reap such a large dividend in the future? How can we use the goods of the earth, the gifts we have been given in order to grow in charity? No one is excepted from asking this question. This is what it means to go and keep watch in the blessed delay between his ascension and his coming in judgment.
Unlike normal oil, the more the oil of charity burns to enlighten our heart the greater the supply one we will encounter. The more we exercise charity – the more we burn the lamp, the more we trim the wick – the greater our capacity will become for God. Young, old, poor, rich, single, married, priest, religious – we all will need to render the Lord an account of our stewardship in the end.
In the context of a life of stewardship generosity, this week on behalf of Bishop Joe, and Fr. Daniel, I am asking you to make a prudential decision informed by Charity: how much will you give to the Catholic Services Appeal?
I could explain the many things that the CSA does to help people in the Diocese, among the more important being that it plays a significant role in forming your future priests.
But fundamentally, though it is noble and worthy to give because these things are essential, I am asking you to consider the spiritual implications of giving. The stewardship generosity to which God calls us is not a quid pro quo arrangement. You don't give because you will get something out of it – that is called a business, and we are not a business here, we are a church. You are called to give because you recognize that you have already received everything from Christ.
You might say to me, "but I have nothing to spare." This is patently false. The proof is that God doesn't need you, but you exist. If that is the case, the only possible explanation for your existence is love. Your existence – whoever you are – is God's gift to you. You can give yourself. God thus doesn't need anything from you – he wants to provide you with everything. Indeed, if you are disposed to receive, you will receive all you need.
Let me be clear: Does this mean that you will have money, riches, wealth, fame, honor? No! But the example of the saints suffices to show that none of these is absolutely necessary for you. Perhaps God will grant you some of these goods but maybe not. There are saints of great wealth and saints who have nothing. We see God's providence through these things sometimes, but it is much bigger and broader than these things. Our hope is in God alone, we hope, we long to see his face, our souls thirst for his presence. He wishes to give if we will receive it, nothing other than himself. He gives us everything. From gratitude for that abundance, it naturally follows that we are called to give.
There are pledge cards available for you to fill out and drop in the basket today. Please take a moment and prayerfully discern what you can give. Even if you cannot give monetarily, please take a pledge card, fill in your information, and make some other offering of prayer. Thank you for your generosity. If you have already filled out a card or made a pledge or donation another way, thank you.