There are certain moments that stick in our hearts as human beings. Moments which we will remember for many years to come.
One of those moments for me, occurred on the Feast of John Vianney a few years ago, when I was called to the hospital room of a three-week-old baby boy. The little boy had been in the NICU for the entirety of his life outside the womb, and the doctors had exhausted every effort to help him survive but to no avail. I was called as a chaplain to be present and minister to the family as they delivered the news that there was no longer any human hope for the child's survival. I cannot adequately describe the anguish of the parents in that room – devasted is a severe understatement. My heart too broke for them and their little boy.
The family was Catholic, and I was able to have a priest come to baptize and confirm the little boy. Then the parents overcome with anguish decided it would be best for them to say their good-byes and they departed the hospital. I returned to be with the doctors and nurses as they removed life-support from the child. As we took turns holding the baby who slowly faded away, there was not a dry eye in the room at that moment.
I offered the prayers for the dead and dying. Prayers for the consolation for his parents and for the doctors and nurses who had cared for the child. It was a difficult moment. A moment I would have much preferred never to experience. What was so strange about the experience was that I both wanted to be there and didn't want to be there at the same moment. When I heard a baby was dying in the hospital earlier in the day, I didn't want to go to the room because I knew I would suffer as a result.
But at the same time, I knew with unshakable certainty that God was calling me to go precisely to that place and to be with those people. I knew that God had called me to witness to the hope which comes only from him. A hope which surpasses all human capacity without grace.
It was a prophetic moment.
In the Judeo-Christian tradition, "The prophet is a spokesman, a herald, who speaks in the name of God; he is one called by God to be his spokesman."[1] While prophets sometimes predicted future events, they did so only confirm the authenticity of their message. Likewise, any miracles that they were able to accomplish were done in order to show that they were authentic prophets of God. While prophecy often involves words and miracles, neither of these are essential to it.
Rather, the witness of life of the prophet is the definitive measure of the prophet. This witness encompasses all the rest of these things, but it goes beyond them. The prophet's way of acting follows from his way of being which is in communion with God. The prophet desires above all to be in communion with God. It is from this communion with him that the desire to act according to his will springs.
He recognizes that he is called to witness to the hope that he has within him, yet he knows that if he does not remain with God first, his prophecy will be in vain. In fact, if he stops following God or rejects the message he is given, his false prophecy will be destructive and lead only to evil. The prophet recognizes that the call to bear witness while remaining in communion with the Lord, always comes at a personal cost.
The lives of the prophets were usually difficult. They were often despised by those they were trying to help. The ones they loved rejected them because they sometimes had to speak the truth which opposed the prevailing current of thought. They also bore the personal anguish of knowing that often this rejection would cause these people – the ones they loved – to greatly suffer.
In the face of this personal cost, Jeremiah – if you have some time this week, go read this book, it's a little long but well worth your time – cries out so humanly, that he does not want the burden of being a prophet anymore.
Jeremiah is tired of preaching to a people who will not listen. He is in anguish because the words of the Lord, which could be instruments of salvation if heeded, fall on deaf ears and hardened hearts. "He stands out as a lonely, tragic figure whose mission seemed to have failed utterly. Yet that "failure" was his triumph, as later ages were to recognize"[2] "He was overwhelmed by the sheer burden, the humanly impossible demand of his task; his prayer is the prayer of Gethsemane."[3]
Jeremiah's anguish is the anguish of every parent who has seen the child they love choose something they know will be harmful to them. It is the anguish of the one who pleads with a friend to do what is right and fails. It is the anguish of the counselor who cannot seem to help a young person choose what it right. It is the anguish of the pastor who must speak the high call of the Gospel in a world so broken. It is the anguish of every Christian who does what he or she knows to be right, but it fails to make a difference on any human scale. It is the anguish of integrity.
It is an image the anguish of the Father's own heart which desire that all men come to him and live. it is the anguish of the Father who cried out, "where are you," after man had fallen from grace in the beginning.
It foreshadows the anguish of Christ's heart which is moved with compassion when he sees the crowds. It is the anguish of Jesus as drives the money changers from the temple. It is the anguish of Jesus who tells Peter to "Get behind" him, today. It is the anguish of Jesus who offers Judas every chance to repent of his plan to betray him. It is the anguish of Christ on the Cross who dies even for those who will reject his love, who died even for Judas – to give him the chance to repent. This prophetic anguish is the Cross – a failure from every human perspective – which stands as the focal point of all history.
But it is precisely from this anguish of having failed in every human sense of the word, that testimony is given – because Christ remained in communion with his Father and submitted his human will to the divine will. The folly of the Cross becomes the salvation of all.
For Christ, "came to what his own, and his own people rejected him," but to those who receive him, he gives the power to be the sons of God,… born… of the very will of God and capable of seeing his glory.
Peter echoes Jeremiah's anguish today. He rejects the Cross. He does not want the anguish of witnessing his friend fail. We should remember that this is often our human reaction as well. But this is not the end of Peter's journey. Because he always returns to communion with the Lord, Peter learns to think according to the will of God. He literally takes up his cross dying in imitation of him.
Brothers and Sisters, the cost of discipleship is high; in fact, it will cost us everything to follow Jesus faithfully. This is because to follow Jesus means to imitate him; where the Master goes, the disciple follows. This means we must be willing to accept the Cross in our lives. We do not get Cross we would want, rather like Christ, all the prophets, and the saints we receive our Cross.
That means, we should expect that sometimes, perhaps even often, despite our best efforts, we will fail from the human perspective – in our families, in our workplaces, in our friendships, even in ourselves. Even Christ fell in anguish on the road to Calvary. Should we expect anything different?
Thus, let us make no mistake about it. We will be in anguish if we follow Christ – because he will form his heart in us. Look at the lives of all of the saints – Our Blessed Mother, Irenaeus, Monica, Augustine, Dominic, Thomas, Francis, Ignatius, Teresa Benedicta, The Little Flower and her family, Mother Teresa, John of the Cross – all experienced the Cross in some way.
These will be moments of great pain for us – but we have that pain only because God has given us the gift of sharing in his own still greater love for his people, for our brothers and sisters. I thank God for the privilege of being able to be with that family in their suffering – to suffer with them – to witness hope for them. – to share in the anguish of Christ's own heart. Brothers and sisters, to share in his anguished heart which beats for every human soul. What greater joy could be found?
Questions for us to ponder:
What/where have I encountered the Cross in my life? Where do I encounter failure from a human perspective? How has God used that failure to bear witness to the hope we should have in him?
Where or to whom am I called to be a prophet of hope today?
What sinful habits or tendencies do I tend to use to avoid the Cross in my life?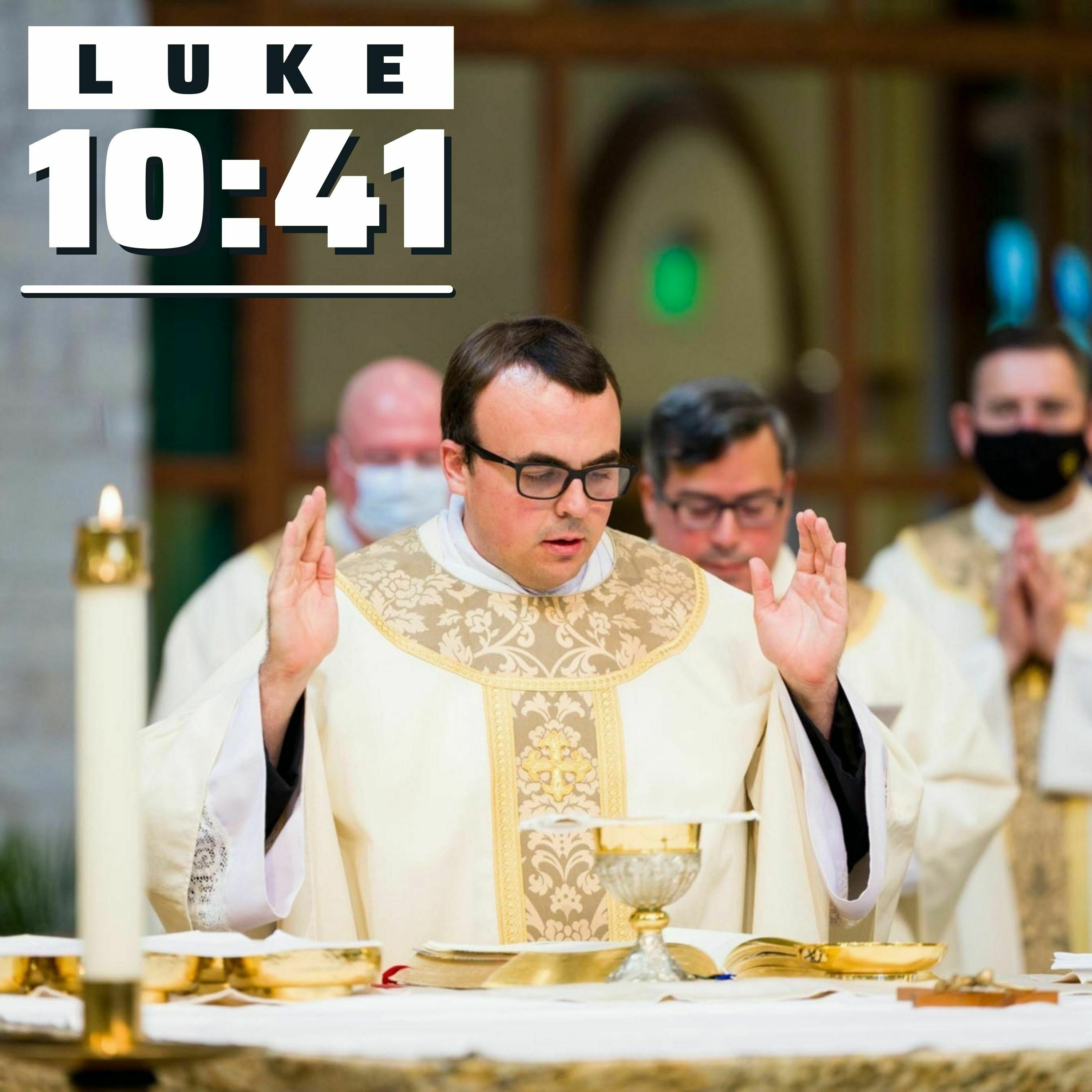 Questions for us to ponder: 1. When am I most defensive? When defnsivness occurs what need am I seeking to fufill? How can I relate it to God? 2. How do I view God? In what areas of my life to forget that he is our Father and treat him more like a tyrant? What lies do I believe about myself and about him? What is the truth opposed to these lies? Have I allowed any false images to influence my behavior? 3. Do I go to God, Our Father, each day in prayer? How do I approach him in prayer? Do I ask him for holy indifference flowing from my trust in him? Today's readings can be found here:
http://www.usccb.org/bible/readings/091320.cfm
You can subscribe to future audio versions of homilies here:
https://frwill.fireside.fm/
(24th Sunday of Ordinary Time, Mass in the Ordinary Form of the Latin Rite)
Today's readings can be found here: http://www.usccb.org/bible/readings/083020.cfm
You can subscribe to future audio versions of homilies here: https://frwill.fireside.fm/
(18th Sunday of Ordinary Time, Mass in the Ordinary Form of the Latin Rite)
---
[1] Wilfrid J. Harrington, Record of the Promise: The Old Testament, vol. II, Key to the Bible (New York: Alba House, 1993), 45.
[2] Wilfrid J. Harrington, Record of the Promise: The Old Testament, vol. II, Key to the Bible (New York: Alba House, 1993), 62.
[3] Wilfrid J. Harrington, Record of the Promise: The Old Testament, vol. II, Key to the Bible (New York: Alba House, 1993), 64.