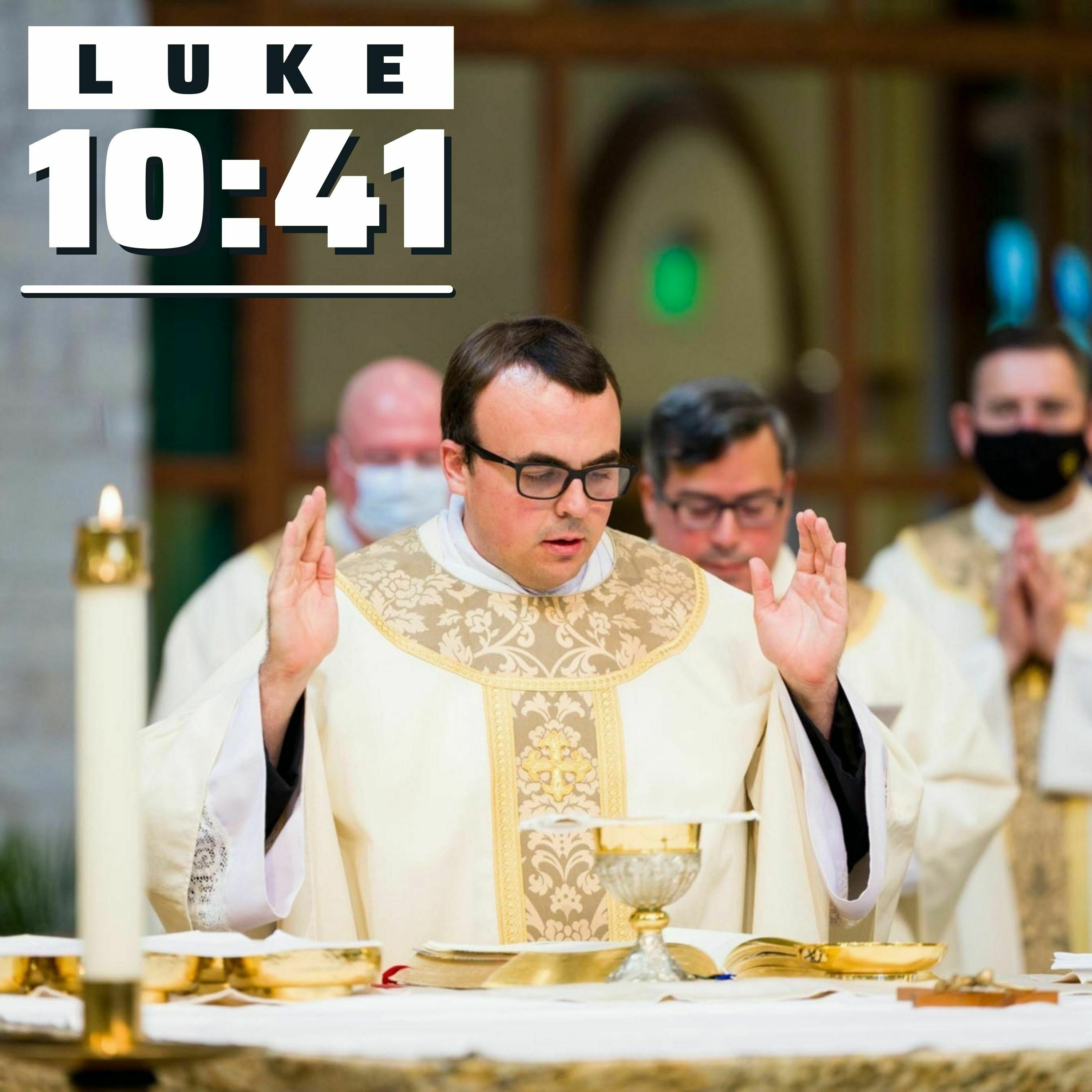 "God is faithful, and he will not let you be tested beyond your strength" (1 Cor 10:13) Simply bask in the fact that God loves you. Your sin, your past temptations, your present struggles, none of them can change the fact that God loves you. He's loved you from the beginning, and he will always love you. You are his son or daughter. Christ compassionately weeps when he sees us in sin because he loves us. He is always present and desires to enter the temple of our hearts and cleanse it of the robbers who wish to cause us harm. Questions for us to ponder: Am I honest with myself about my temptations and the vices in my life? How am doing at truthfully acknowledging my thoughts, feelings, and desires (even if they are not all holy)? Do I honestly relate my struggles and temptations to the Lord? Are there areas of temptation that I struggle to be honest about? How do I feel loved by God? What are signs of his love for me? What prevents me from responding to his love? Today's readings can be found here:
https://ususantiquior.files.wordpress.com/2020/07/propers-for-ninth-sunday-after-pentecost.pdf
You can subscribe to future audio versions of homilies here:
https://frwill.fireside.fm/
(9th Sunday after Pentecost, Mass in the Extraordinary Form of the Latin Rite)
About 40 yards to my right, between the school and the rectory, you will find a magnificent tree shading the whole courtyard area. The little deck/balcony that is part of the rectory incorporates this tree. Because of this, and due to its continuing growth, the tree is pushing the stairs out of alignment. Alas, we will have to add that to the maintenance list for our beautiful Cathedral grounds. 
The tree grew from a tiny acorn. Then it became, a seedling, then a small tree, then a medium-sized tree, and only after many years has it reached its maturity. All its power to bear heavy loads and to grow to the height of the buildings around it existed in the acorn.
This is like what our Lord speaks about using the mustard seed. The kingdom of heaven grows slowly, but it reaches to the heights. Nothing will stop it. Likewise, with the leaven – the yeast – it only takes a minuscule amount to cause the dough to rise – to double or even triple in volume. But it takes time. Note what Christ is telling us here: the kingdom grows slowly yet is fully alive from the beginning. He is the kingdom. In fact, it is his will that it grows slowly so that many more would have the chance for repentance and for the joy of knowing Christ!
With these thoughts percolating in our minds, let us turn to the first parable that Christ offers us today. The wheat and the weeds. Remember the parable of last week? In that parable, of the sower and the different types of soil, the Lord helps us recognize the obstacles to the flourishing life of grace in ourselves. Remember, we want to be good fruitful soil.
Today, to continue the analogy, Christ turns to our relationship with the other plants within the field. How do we react when another does not bear the expected fruit? In more literal terms, how do we confront evil, and why does it exist? And what purpose does it serve in our life as a disciple?
These are not sterile questions; many of the most brilliant minds of humanity, saints and sinners alike, have struggled with them. For example, when St. Thomas Aquinas summarized the objections against God's existence in his Summa Theologica, the presence of evil in the world was objection number one.  We are in good company, then if these questions arise in our hearts as well. If we believe in God, all of these questions become some form of, "why does God allow evil to continue?"
Thomas' answer –concise as always – is that "it is part of the infinite goodness of God, that He should allow evil to exist, and out of it produce good."[1] Such a response merits reflection and prayer; these are the only means of us coming to see what Thomas gets at in so succinct a manner, which is also what our Lord proposes to us through the parable.
What good comes from allowing the plants and the wheat to grow together?
First, before they bear fruit, the wheat and weeds are difficult, if not impossible, to distinguish. It is by their fruit you will know them. The growing time – remember the mustard seed – is necessary because God loves his people. He thus gives us time to grow so that we might have time to repent. Through the grace of repentance, God changes us from weeds to wheat.
As the Lord has been generous in giving us time to repent, so also he calls us to be generous in allowing people room to repent and grow from their mistakes. Rash judgments are not the way of the Father who gives his "children good ground for hope that [God] would permit repentance for their sins." Giving people the benefit of the doubt, kindly admonishing people without judging their character, and looking for ways to empathize (understand the other person's situation as they do) can all help us to extend the love we have received to others.
Augustine has this to say when we encounter evil, "let a man gently reprove whatever is in his power; what is not so let him bear with patience, and mourn over with affection, until He from above shall correct and heal, and let him defer till harvest-time to root out the weeds."[2] As Augustine suggests, there are some evils which we should remedy and correct as possible. These are things that fall within our power. For example, parents have authority over their children to help them grow in the virtues. Pastors and priests likewise exercise responsibility in their parishes. But this also extends to friendships. Some of the closest friends I have are the ones who have lovingly told me I needed to repent of specific sins and who walked with me through the struggle. They became the instruments of my conversion from weeds to wheat.
Nevertheless, the Christian will often confront situations in which evil comes about over which he has no power. He or she may not be able to stop some evils from happening. This is the situation portrayed in the parable; the Master forbids the servants from removing the weeds because doing so would destroy the wheat. Remember, God allows evil, and he brings good from it. Notice that this is a hidden process; the intertwining roots are under the ground. We don't know how precisely this comes about. But we can be assured that God never permits evil without bringing some greater good from it.
The most perfect example of this is the Cross. The Cross is man's total rejection of the Love of God Himself. Yet evil does not have the last say. Christ transforms it into the place of victory. Out of the Cross comes our salvation. Christ chooses to endure such great evil because he sees the great good: our salvation. Through the evil Christ suffered on the Cross, "man knows…how much God loves him, and is …stirred to love Him in return, and herein lies the perfection of human salvation."[3]
Likewise, anytime we suffer evil in union with Christ, we show the world how much God loves them. The Kingdom of Heaven already triumphs because Christ, who is its embodiment, has already triumphed through his Cross and Resurrection.
---
[1] Thomas Aquinas, STh., I q.2 a.3 obj. 1
[2] Thomas Aquinas, Catena Aurea: Commentary on the Four Gospels, Collected out of the Works of the Fathers: St. Matthew, ed. John Henry Newman, vol. 1 (Oxford: John Henry Parker, 1841), 499.
[3] STh., III q.46 a.3 resp.