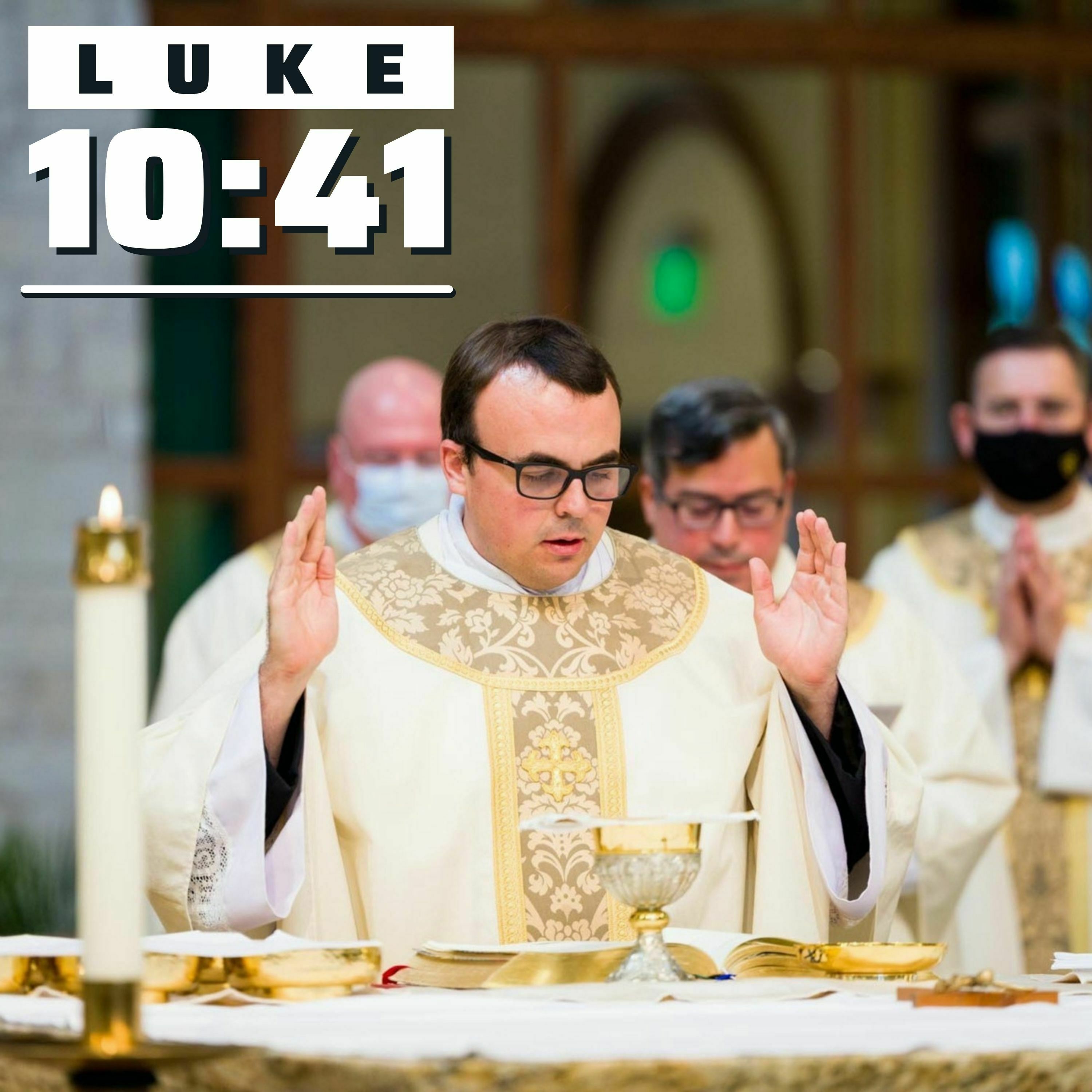 Know Jesus – Second Sunday of Advent 2022
–
Luke 10:41
The question used to be about getting information, but now it is much more a question of how to get the true information. Because we have so many sources of information being thrown at us, we are often overloaded and we cannot distinguish signal from noise, truth from fiction. Signal is information that matters, that helps you achieve the goals, and that allows you flourish because it allows the mind's conformity with reality. It bears good fruit in your life. Noise is at best just trash, and at worst something that does the opposite. It leads you away from the goal. It does not bear good fruit. But though the noise is on an unprecedented scale; this is not a new problem. For as long as human history discerning which voices to listen to, which things to pay attention to has been a challenge. John like all the prophets before him helps those around him to see reality as it really is. To distinguish the noise from the signal. But he is the greatest of all the prophets because he himself will literally point out the light from light. The one who is truth himself. John helps us realize that we not only have to meet Jesus, but we need to know him. To meet him and to know him are linked. As people who have meet this man Jesus we want to grow in knowledge of him. We want to know who he is (God), what he did (his life, death, and resurrection), how he continues to act today (the Church), and what our response (prayer, love, and following him). John goes to the wilderness. He eats the same food over and over again, and wears simple clothing. Why? Because he knows that in order to encounter and learn about God he must cut the noise from his life. Friends do you have silence in your life? It is difficult to find it. But how can you find some silence? How can you develop a habit of silence? Study is the opposite of vain curiosity – it seeks to gain knowledge and wisdom not just information. It asks big questions and goes deep into topic or person at hand. It uses the best resources. So here's the challenge – set aside time this week to read one of the Gospels. And ask questions: in the silence ask Jesus to teach you to know who he is so you can love him more and see reality as it really is.
The words of our blessed Lord seem unusually harsh to our modern ears today. Even perhaps racist. He insults the woman with the truth that she is not part of the chosen people. He calls her a dog – an unclean animal for the Jews. 
Is the Lord simply a product of the xenophobia of his historical time? Or of the human tendency toward xenophobia that we'd like to think is gone today, but unfortunately, is often still present in our culture? Is he perhaps unconsciously expressing the sentiment of his people?
No! We must recognize whom we speak here. Jesus of Nazareth is no mere man He is the second person of the blessed Trinity: God from God, light from light, the very one in whose image this woman was created in.
Have you ever misinterpreted a friend's silence? What about his words? I found myself in that position many times. With painful irony, we often find ourselves understanding and seeing the wisdom of our parents and teachers and other authorities only after many years.
What is happening here in the gospel is something similar. The Lord's words and his silence are easily misinterpreted in both their intention and their object. But to understand them well, we must remember who he is and what he does consider the whole gospel.
If the Lord, if the Word, speaks harshly, we must strive to understand his meaning. There is a hidden purpose both in the silence and in the harsh words. Because always the Word is working.
So what is the Lord doing? If we give God the benefit of the doubt – which ironically, in this case, reflects a deep faith in him – what do we see?
First, look at the context. Jesus goes to Tyre and Sidon. After having preached many parables about the Kingdom of heaven to his countrymen in Galilee, He comes from Genesseret. If we think his words to the Canaanite woman are harsh, we should read what he has to say to the Jews. He calls them hypocrites and broods of Vipers, honoring him with the lips but in their hearts far away from him.
Jesus's movement from Jewish cities to gentile ones shows that his preaching, which is sufficient for salvation if believed, is intended for the salvation of all people. What else? He comes to a gentile city – imagine that, a Jewish rabbi traveling to a gentile city. What is he doing? He has to expect, even to desire, interaction with gentiles.
Why then does he stay silent when the miserable woman calls out to him?
The woman's intention and her character are clearly apparent; she desires mercy because she has taken upon herself the burden of her tormented daughter. How many parents and priests, brothers and sisters, have done the same? This woman, through the mysterious working of God, already loves in the manner of a Christian.  She loves in imitation of Christ, who took compassion upon us.
But this impassioned plea appears to yield no results. It is met with silence. Perhaps though, in the quiet, we find the response of the Lord. A quiet reply which serves its purposes in the Providence of God.
For one thing, through being silent, the Lord teaches the woman (and us) to persist in prayer. Prayer does not change the mind of God, but it does bring us into a relationship with him. It draws us more deeply into conformity with his will. This shows us that in the new covenant persisting in prayer – that is in relationship with the Lord is much more essential than fulfilling the law – though the law is not disparaged.
Through this persistence, the Canaanite woman grows in devotion. This also teaches us. Often the Lord waits to give us what we desire because we do not yet desire rightly or with the ardor necessary to make proper use of the gift. He expands our heart for him in this way so that we can properly receive the gift. This is why fasting before the feast days of the Lord is important. It gives a visible sign To the desire helping us to grow in that desire for the Lord.
Third, he teaches us the importance of intercession through his silence. The Lord wishes that we would cooperate with him in seeking the salvation of others and allow others to do the same for us. The disciples, albeit imperfectly, do take the woman's petition to the Lord. Although they only do it because they are annoyed, it still teaches us something. And we can see this because He only speaks after their intercession.
He then says, "I was sent only to the lost sheep of the house of Israel." (Matt 7:24)
Because he is in the gentile territory, we see that those words – harsh though they may seem – express his desire that the House of Israel, gathered back together in him, would be the beacon of salvation for all the world by pointing others to him. He was sent for all but to the Israelites first that through them, all might be chosen in Him.
The woman's response is moving. Our translation fails to do it justice – "paying homage — just does not seem to have the force to convey what she was doing. She adored. She worshipped him as God. And her profound faith in the Lord as God as one who trusts that her prayer for help will be heard is on display here. Would that we also might experience the same increasing devotion.
The next words of our Lord are probably the harshest, but they serve an outstanding purpose. She is invited by our Lord to humility by them. The Lord asks her by these words to persist even more humbly.
In her words, she expresses what is true for all of us: we have no absolute claim on the mercy of God. In fact, just the opposite by nature, we merit nothing. And because of our sins and because of original sin, we deserve even less. How remarkable her trust! She knows that God is good enough to feed us to redeem us to heal us.
For her benefit and for our benefit, the Lord draws faith out of the Canaanite woman. She becomes a remarkable example of what trusting prayer in faith looks like.
Faith which is prompted by God coming to meet us first; Faith which does not deny our own needs while at the same time being compassionate towards others; Faith that is persistent in asking for what we need and what others need; Faith that asks for intercession from others; Faith that is, above all else, humble, which recognizes with gratitude the gift God gives us. For when we desire in prayer, nothing other than the will of God, then it will be done in our lives.
Questions to Ponder
When have you experienced silence from God? How have you reacted to God's seeming silence?
How might God be working in your life to greater faith right now?
What are areas of your life in which it is difficult to trust the Lord? What "harsh words" might the Lord use to rouse your faith?
Who can you ask to pray for your intercessions today? Who can you pray for? (go do it, now!)